Press Release
DFL Party Condemns Violent Illustrations from GOP Candidate
10/19/2020
38A candidate Don Raleigh co-authored numerous cartoons depicting the murder of children, members of the military, and more.
Today, the Minnesota DFL Party strongly condemned Republican-endorsed House District 38A candidate Donald Raleigh for a series of violent illustrations he created which depict a disturbing series of gun homicides.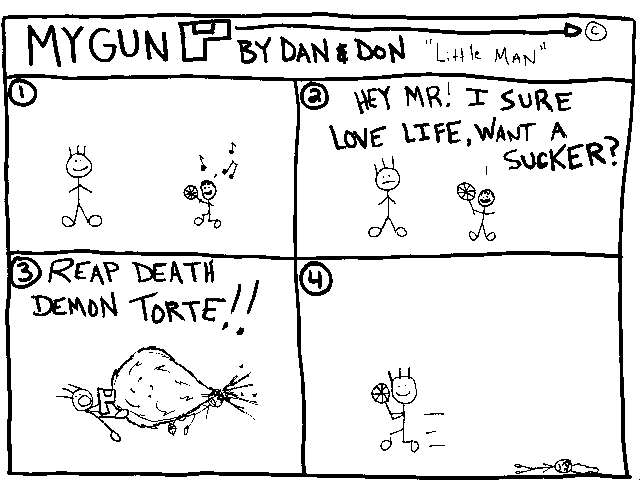 An example of one of Raleigh's comics
The crude drawings show a figure shooting and killing a variety of people, including members of the military, people of color, children, a blind person, a Jehovah Witness, a DMV employee, environmentalists, and in one cartoon, the figure assists a person committing suicide due to his weight.
DFL Party Chairman Ken Martin issued the following statement:
"Violent rhetoric like the disgusting illustrations put out by Donald Raleigh have no place in our society. Making light of gun violence, suicide, and the murder of children is abhorrent and deserves condemnation from leaders in the Minnesota Republican Party.
"At a time when Minnesotans are crying out for common-sense gun safety reform, the last person we need in St. Paul is someone who thinks gun violence is a laughing matter."
The evidence that Donald Raleigh is behind these comics
The comics in question were created for mygun.com and list "Dan and Don" as the artists at the top of each comic. According to ICANN's Domain Name Registration Data Lookup, mygun.com was registered by the Minnesota based company, Evolve Systems, whose President is Donald Raleigh.
Mygun.com hosted crude, violent comics from 2000 – 2002. In 2003, mygun.com switched from a crude cartoon site to a website for Raleigh's business of training people to concealed carry. Raleigh also lists a MyGun.com LLC in his 2020 economic interest statement with the Minnesota Campaign Finance Board.
Finally, an early cartoon depicts the creators "Dan and Don" and Don cartoon looks extremely similar to Raleigh. Donald Raleigh also has a brother, Dan.
The content in Raleigh's comics
The violent content featured in these comics includes:
To examine these comics for yourself, click this link, then keep clicking the button labeled "Dear God, show me MORE".