About Us
Swift County is home to a great history with the DFL. The Farmer – Labor Association joined with the Democratic Party right here in Swift County. The result of that union is the current (DFL) Democratic Farmer Labor Party that we have today. The DFL stands up for working men and women and small businesses through out our great state of Minnesota. The DFL represents a legacy of accomplishing the best in protecting human rights, workers' rights, and equal rights for everyone. Our business climate (rural and urban) is successful because we respect individual rights, individual freedoms, and we reward hard work. Join the legacy of the Swift County DFL and make a difference in our county, our district, our state, and our nation by supporting equal rights and a platform of fairness under the eyes of our government.
---
Upcoming Events:
VOTE NOW THROUGH NOV 8.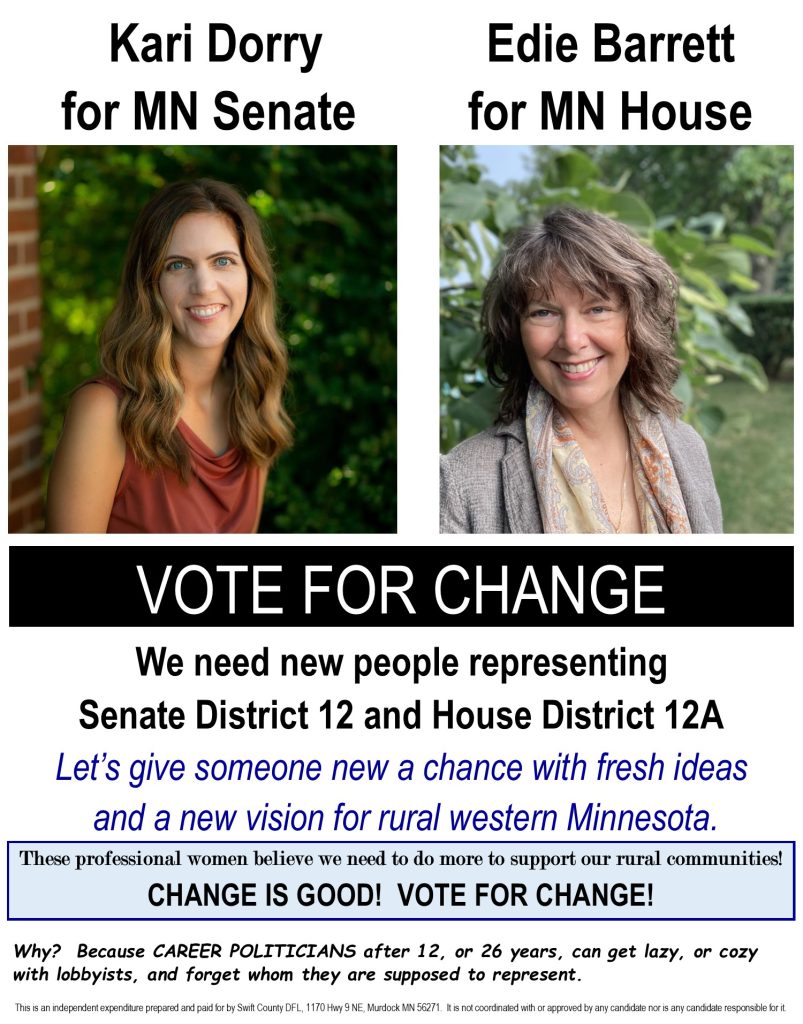 _____________________________________________________________________________________
Radio Ads:
Torrey Westrom and Paul Anderson brag about their experience, but that doesn't matter if you still continue to vote wrong.  When these guys were interviewed by the Times on women's rights, neither would say they supported an exemption for rape, incest, or the life of the mother.  And then there's the question of Westrom actually living in the district.  The judge's summary says it all.  Quote, "the evidence Westrom presented to support his claim that he now resides in SD 12 is not overwhelming."  Walz proposed an ag budget of 65 million dollars – Westrom only 7.  Our farmers lost out because of Westrom.  We're all tired of career politicians playing political games.  We have a new district and we need to elect new people who aren't entrenched in partisan politics, but are focused on honesty and integrity and committed to finding the common ground that's so badly needed today.  We have 2 incredible women ready to lead.  Let's elect them.  Vote Kari Dorry for Senate and Edie Barrett for house.  This Independent Expenditure is paid for by Swift County DFL, it is not coordinated with or approved by any candidate nor is any candidate responsible for it.
City Precincts:
Appleton, Benson P1, Benson P2, Clontarf, Danvers, DeGraff, Holloway, Kerkhoven, Murdock
Township Precincts:
Appleton, Benson, Camp Lake, Cashel, Clontarf, Dublin, Edison, Fairfield, Hayes, Hegbert, Kerkhoven, Kildare, Marysland, Moyer, Phillsbury, Shible, Six Mile Grove, Swenoda, Tara, Torning, West Bank
Swift County DFL Officers:
Chair – Jim Falk
Associate Chair – Teresa Clarke
Treasurer – Pete Kennedy
Secretary – Patti Cain
Outreach – Brinna Langford
---
Swift County DFL is asking you to support our cause to elect democrats to the Minnesota legislature.
You can make a significant difference by contributing your time, skills, and money to help us win our local elections. I hope you will help us out with a contribution. Any amount is greatly appreciated.
Make contributions to: Swift County DFL
Mail checks to: Swift County DFL, Box 10, Murdock MN 56271
Credit Card payment:  Select the DONATE to Swift County DFL orange button just under our name.  Our site is secure using ActBlue to process your payment.
---
HELP US WIN BY USING THE PCR PROGRAM!
What is the PCR? It's the Political Contribution Refund Program where individuals can contribute up to $50.00 per person, or $100.00 per couple, to a candidate or organization, like Swift County DFL. We provide you with a receipt, which you file with the State of Minnesota, and you will get that same amount of money back from the State of Minnesota. Maximum refund is $50.00 per person, or $100.00 per couple for the refund per year.
It's a great way to help our cause each year!
Upcoming Events
load more events
See All DFL Events
Go
Resources
Accommodation Resources
Here you can find some recommendations as well as resources on planning unit events.
Visit
DFL Party Documents
Here you can find the DFL Constitution, Official Call, Platform, and Action Agenda.
Visit
Staff Directory
Here you can find a list of the current DFL Staff as well as their emails to get in contact. Here are some key contacts emails: Party Affairs Questions - [email protected] Training Questions - [email protected] VAN Questions - [email protected] PCR Questions - [email protected]
Visit