Senate District 31
This is the DFL.org web presence for the NEW Senate District 31 (Formed after 2022 redistricting).
If you are looking for the official SD 31 web site, please click this link: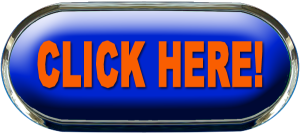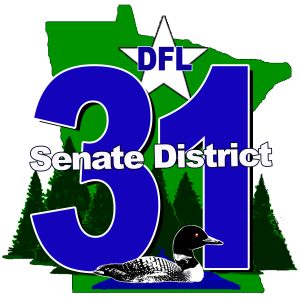 Senate District 31 includes: Ramsey, Andover, Oak Grove, East Bethel, Ham Lake, Athens Township and Linwood.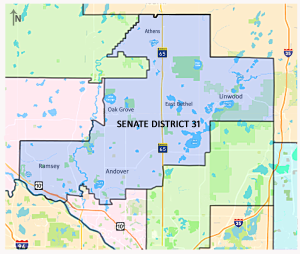 • Stay in touch! Whether you are a new or continuing member of SD-31, subscribe to (or update your contact information in) the SD31 Email List via the online signup form found at this link. The email list will be used to send a periodic newsletter with our meeting notice and to send occasional emails about special topics such as campaign events.
If you are unable to use that online form, you can also subscribe to the email list and/or update your contact information by sending an email to [email protected].
____________________________________________________________________________________
SD31 Party Leadership
OFFICERS (2022-2023)
Chair-  Jason Ruffalo
1st Vice Chair- Bill Fisher
2nd Vice Chair- Alyson Gullette
Secretary- Wes Volkenant
Treasurer- George Drew
DIRECTORS  (2022-2024)
31-A:
Andy Hillebregt
Patti Rysdam
Peter Miller
Barb Case
Will (Kim) Jones
George Drew
Scott Petty
Betsy O'Berry
Reed Joly
Alyson Gullette
31-B:
Mel Aanerud
Tiffany Weeks
Michael Schroeder
Gerald Etesse
Val Holthus
Gary Oman
Alexander Becker
Jeff Wellman
State Central Committee Members
[Total 4 Delegates and 4 Alternates:  Chair & Vice Chair 1 are automatic SCC Delegates; VC-2 is 1st Alternate]
Andy Hillebregt- Delegate (31A)
Gerald Etesse- Delegate (31B)
Scott Petty- 2nd Alternate (after Vice Chair 2) (31A)
Gary Oman- 3rd Alternate (31B)
Betsy O'Berry – 4th Alternate (AT LARGE)
Anoka County DFL Delegates
[2 Delegates & 2 Alternates– Alternate positions open]
Andy Hillebregt
Patricia Rysdam
Contact Information
Jason Ruffalo
[email protected]

PO Box 48127
Coon Rapids, MN 55448
Upcoming Events
load more events
See All DFL Events
Go
Resources
Accommodation Resources
Here you can find some recommendations as well as resources on planning unit events.
Visit
DFL Party Documents
Here you can find the DFL Constitution, Official Call, Platform, and Action Agenda.
Visit
Staff Directory
Here you can find a list of the current DFL Staff as well as their emails to get in contact. Here are some key contacts emails: Party Affairs Questions - [email protected] Training Questions - [email protected] VAN Questions - [email protected] PCR Questions - [email protected]
Visit