Aitkin County
Our Mission:

The Aitkin County DFL, a unit of the Minnesota Democratic Farmer Labor party, provides organization and support for local, state, and national Democratic candidates, and provides a vehicle for participation in the democratic process.
Donate!
Issues: See our party platform (Ongoing Platform + Action Agenda) for issues that are important to us. A few of these issues are:
Equal opportunities for everyone

Quality affordable public education

Workers right to organize and bargain collectively

A clean, safe environment

Taxes based on income / ability to pay

The right to a secure retirement for everyone

A national, single-payer health care system to provide full coverage for ALL citizens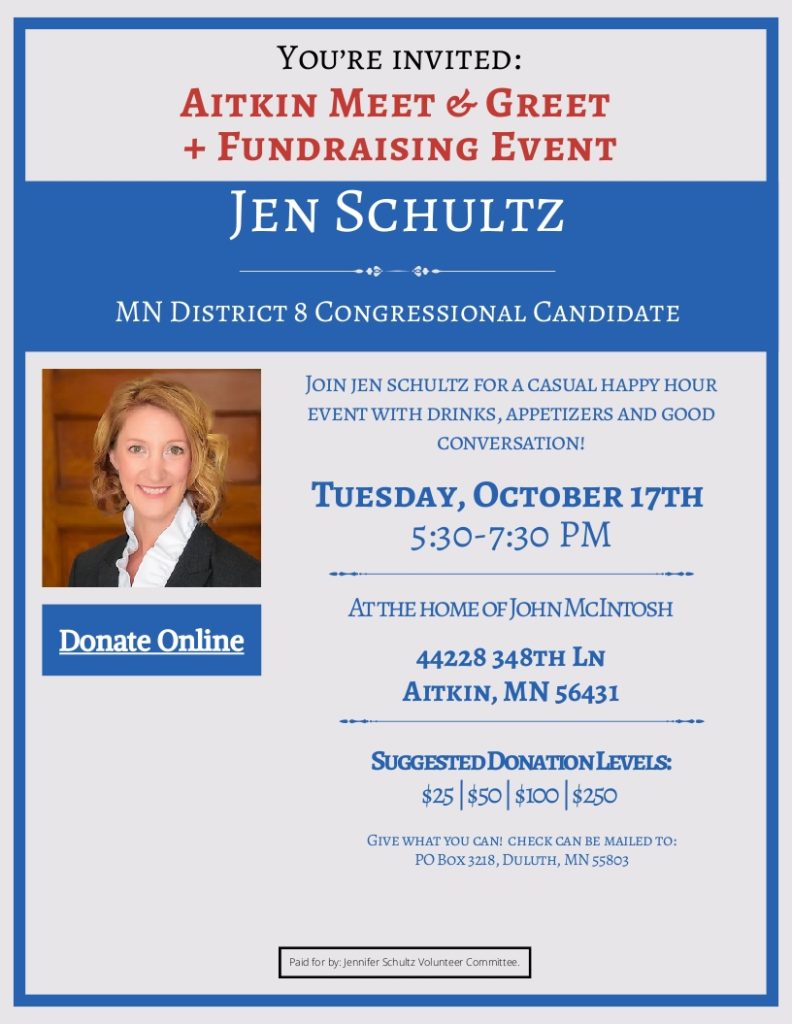 You can make a difference!
Get voting information and register to vote HERE!
Your vote is important!
Meetings: The Aitkin County DFL Central Committee meets at 6:30, on the 4th Tuesday of every other month (Jan, Mar, May, Jul, Sep, Nov), at The 40 Club, 960 2nd St NW, Aitkin, MN 56431 (contact Chair for details). Everyone is invited. This is an open meeting to all area Democrats.
Contributions:  The Aitkin County DFL ( Campaign Finance Reg#20273 ) needs your donations to support our mission and the basic principles of our organization. Donations can be made securely on-line by visiting our ActBlue Contribution page or can be sent to our mailing address. The Aitkin County DFL uses contributions to fund a myriad of activities. Our expenditures support the basic principles outlined in our mission statement. Some of the items we use your contributions for include:
Contributions to candidates for use in their campaigns

Operating expenses for the Aitkin County DFL organizing unit

Mailings

Conventions

Fair booth

Yard signs and other campaign materials
The Minnesota Political Campaign Refund (PCR)
provides refunds of $50/individual or $100/couple
per year for contributions made to Minnesota political
parties and candidates for state offices.
Thank you to those who have donated already.
Volunteer: The Aitkin County DFL is always in need of your help. There are a number of tasks to be done during each election cycle and we are always interested in hearing from new people. Call or email us for more information.
Executive Committee 2022 – 2024:

Officers:

Bill Pick

–

Chair

Susan Thomas

–

Associate Chair

Sue Tange

–

Secretary

Joel Hoppe

–

Treasurer

Shirley Pick

–

Outreach and Inclusion
Upcoming Events
load more events
See All DFL Events
Go
Resources
Accommodation Resources
Here you can find some recommendations as well as resources on planning unit events.
Visit
DFL Party Documents
Here you can find the DFL Constitution, Official Call, Platform, and Action Agenda.
Visit
Staff Directory
Here you can find a list of the current DFL Staff as well as their emails to get in contact. Here are some key contacts emails: Party Affairs Questions - [email protected] Training Questions - [email protected] VAN Questions - [email protected] PCR Questions - [email protected]
Visit